Doctors: Give Your Patients A Heads Up on Arterial Stiffness and Heart Disease!
Heart Disease is the leading cause of death.

1 in 7 people die of cardiovascular disease.

Many times the 1st and only symptom is a heart attack or stroke.

Cardiovascular disease accounts for over $503 billion dollars of annual healthcare spending.
The Meridian Digital Pulse Analyzer is an FDA-approved device used to measure and analyze pulse waveforms, heart rate and show arterial stiffness. It provides information by way of a non-invasive, infrared light fingertip probe.
The measurement probe consists of a light-emitting diode (infrared LED) and a photodiode placed on the opposite side (of a finger) as a light receiver.  The Photodiode detects the changes in the amount of light absorbed by hemoglobin, which tracks against time the density of blood in the fingertip, allowing the device to graph the pulse of blood flowing from the heart.
The Meridian DPA converts the changes of transmitted light into a waveform and displays digital values of pulse rate as well as a graphic display of the pulse waveform and indices on the LCD screen. The DPA also displays the second derivative pulse waveform (Accelerated Plethysmograph or APG) to provide a better evaluation of arterial aging.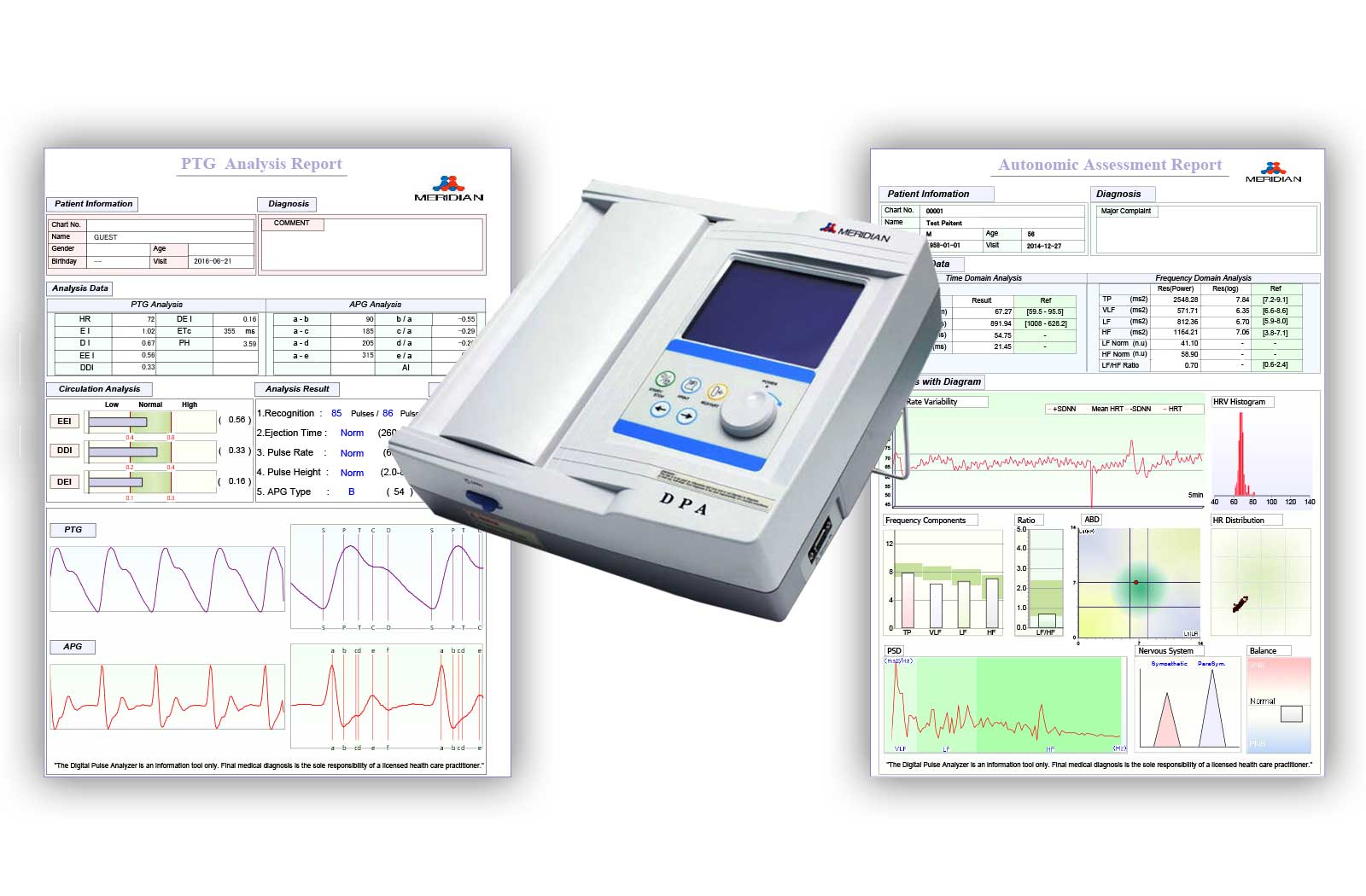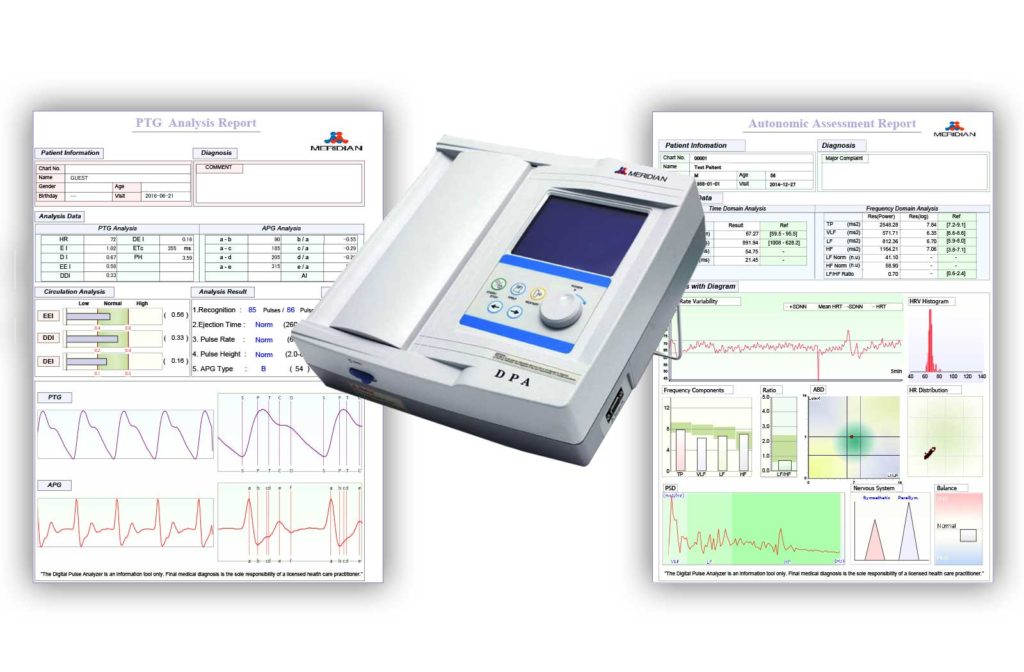 Pulse wave velocity is the velocity at which the arterial pulse propagates through the circulatory system. PWV is used clinically as a measure of arterial stiffness. It is easy to measure non-invasively  and has a strong correlation with cardiovascular events and all-cause mortality and is recognized by the European Society of Hypertension as an indicator of target organ damage and a useful additional test in the investigation of hypertension.
The Meridian DPA also performs a second test, by using a PC based program, this device is able to measure Heart Rate Variability (HRV) and provide the quantitative analysis of the stress response. It indicates the regulation status and balance of the autonomic nervous system.
Meridian Digital Pulse Analyzer – Medical Grade Cardio Wave Analysis.
1. Early stage exam of cardiovascular diseases by Cardio waveform measurement and analysis
Early diagnosis of arteriosclerosis and peripheral circulatory disturbance.
Analysis on blood circulation status
Analysis on blood vessel aging status
Ability to plan the treatment and follow up with the patient under treatment at an early stage
2. Exam of autonomic nervous system by HRV(Heart Rate Variability)
Saves the HRV data and analyzes its data in 5 min.
Body response on stress evaluation
Makes it easy to evaluate the treatment methods or effectiveness of medicine
3. User friendly operation
Simple exam procedure
Quick 1 – 5 minute measurement time
Convenient operation by automatic measurement and analysis
Simple and fast operation by using Window software
Easy management of the patient database
FDA Approved
This device is FDA approved.
Non -Invasive
Our device uses a small clip that you place over the patients finger which detects the changes in pressure, blood flow and velocity through the full arterial pulse wave cycle.
Pays For Itself After A Few Months.
Based on normal fees and billings for the tests delivered, a Digital Pulse Analyzer will pay for itself within a few months of use, meaning that the machine will be helping your patients and providing steady income for many years to come.
Important Tool for Prognosis
Measuring the arterial pulse wave and using this to estimate the characteristics of the blood vessel walls and pulsatile function of arteries means that the practitioner has important prognostic and therapeutic information far beyond what can be obtained through traditional blood pressure measurements.
You are able to provide your high-cardio-risk patients with a clear picture of their risk factors well in advance of serious or even life threatening events.
You are also able to screen all patients for cardiovascular issues that may not be showing symptoms, keeping in mind that most heart attacks and strokes occur in patients with no prior symptoms.
Overview
Early detection of stiffness in the arterial wall
Biological age of the patients arteries
Information regarding best treatment choices
Ability to monitor the arterial wall response to lifestyle/health changes
Prognosis and thus reduction of  cardiovascular risk factors